Stainless Steel Scrap Metal Buyer – Minneapolis St. Paul, MN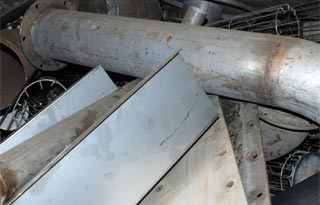 Ordinary steel readily corrodes and rusts when exposed to air, water and other environmental conditions. Stainless steel alloys, containing 10% or more of chromium and nickel containing from 3-30% as part of the alloy mixture, resists staining, rusting, and corrosion very well. It retains the strength and other qualities that make steel such a useful industrial material. By forming a passive self-healing chromium oxide coating on steel surface, the chromium content prevents most corrosion and rusting. Other alloying metals create a wide range of stainless steel alloys with specific properties needed for a wide range of uses.
Stainless steel is highly recyclable and most items include at least 60% of recycled material. At our Minnesota scrap metal yard, we carefully sort and process items by type and grade for sale to our commercial wholesale buyers. All scrap processing is done in our indoor facility. As a leading ferrous metal recycler in Minneapolis St. Paul, stainless steel scrap is an important part of our business.
Stainless Steel – An Important Material for a Wide Range of Uses
As a top metal recycling company in Minnesota, we purchase stainless steel items from all of our sellers, ranging from individual scrap haulers to manufacturers. This ferrous metal is widely used in both consumer and industrial products so it can be found in a wide range of forms. A key to identification of stainless steel is usually a lack of rust on the surface of the item, which helps scrappers and others to separate stainless scrap from other materials. As with all metals, the price we pay for scrap depends on a number of factors, including alloy type, condition, any coatings and other factors. Items that we buy include:
Food Processing Equipment – Tanks, counters, cabinets, and many other items used in the food processing and preparation industry are made of stainless steel. Cookware is also often made of this metal, both for home and commercial use.
Tubing & Pipe – Stainless steel tubing and pipe are widely used in the food industry and other industries. Today, it is common in automotive exhaust systems and many consumer items.
Sheet Metal – Many major kitchen appliances, commercial appliances, cabinets, sinks, and other fixtures are made of sheet stainless steel and this can be recycled after disassembly. Stainless scrap has excellent value and should be recycled, making it a common material brought to our scrap yard.
Industrial Scrap – For industries manufacturing stainless steel items, our scrap metal company actively purchases stainless steel scrap generated through manufacturing for our recycling program.
Architectural Scrap – Demolition companies should be aware of the use of stainless steel as a building material and separate this material for recycling.
Miscellaneous Scrap – Many common items are made of this metal. Cutlery, tools, household hardware, a variety of fasteners, marine components and other items made of stainless steel can be found almost everywhere and should be recycled.
Sell Stainless Steel Scrap at the Best Prices in Minneapolis St. Paul, MN
Stainless steel scrap metal may contain many different alloys. The market value depends on the particular alloy. Many scrap metal buyers have no way to tell what alloys are in your materials and will offer you a lower price than your metals are actually worth. At our scrap yard, we can accurately analyze your scrap on the spot. We pay you top prices based on the actual alloys you have.
Ferrous metal scrap makes up an important part of the metals recycled at our Minneapolis St. Paul scrap metal company. We have active wholesale buyers for our stainless steel scrap both domestically and internationally. We are active buyers of stainless steel scrap at our convenient Minneapolis facility. We encourage all of our customers to sell their stainless steel scrap to us. We pay top dollar for this material based on current market conditions and the type and condition of the material.