Copper, Brass & Bronze Scrap Buyer – Minneapolis St. Paul, MN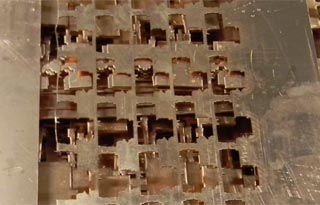 Copper and its alloys, including brass and bronze, are among the oldest metals used by mankind. Dating back to ancient times, these metals gained wide use due to the ease with which their components were produced from ores. Copper also occurs in its native form in many places on our planet. Today, these metals continue to have many uses and have excellent value for recycling. At our Minneapolis metal recycling company, we actively purchase scrap copper, brass, and bronze scrap from sellers, both individual and industrial. We buy all forms of these metals and pay top prices for them based on current market conditions. Depending on the type of metal and its condition, these metals are in high demand.
Twin Cities Copper Scrap Metal Buyer & Recycler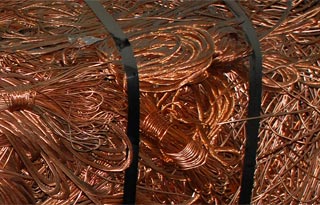 Copper is one of the most widely used metals and has many applications. As an excellent conductor of heat and electricity and as a material for plumbing, it can be found in almost every building and in many other places. It's easily recognizable by its reddish orange color and is highly sought after as a scrap metal. As the leader in Minneapolis St. Paul scrap metal recycling, we are an active buyer of all copper scrap, which may occur in many forms, including:
Wire – We buy bare and insulated copper wire in all sizes and quantities and pay the highest prices for these materials. Individual scrap haulers, contractors, electricians, demolition companies, and industrial companies are common sources of copper wire scrap for us.
Pipe, Tubing & Fittings – Copper pipe is today's most common household plumbing material. Plumbers, demolition companies, builders and individual scrap haulers bring us their plumbing scrap. To get the best price, cut clean pipe from soldered fittings and separate the two materials.
Copper Coils & Condensers – Found in residential and industrial applications, these items, when separated from their associated equipment and components, are very valuable.
Sheet Copper – Commonly recycled by us as scrap from manufacturing, copper sheeting is also used as a roofing material and as decorative panels, especially in older buildings.
We Buy Brass Scrap in All Forms for the Best Price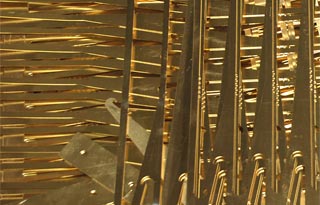 Brass is a copper alloy, with copper and zinc as its major components. Often, other metals are included in the alloy mix to create specific properties. Brass generally has a yellowish color which makes it relatively easy to identify. It may also be plated with chromium as in plumbing fixtures. There are many different alloys that make up the range of scrap brass with each having a different value. At our scrap yard, part of our recycling process is analyzing and sorting brass scrap according to alloy type. Brass is commonly found in the following items:
Plumbing Pipe & Fixtures – Brass pipe and fittings are used industrially and in some automotive applications. Plumbing fixtures are found almost everywhere, usually brightly plated. Plated brass should be separated from non-plated materials.
Sheet & Hardware – Brass is used widely for hardware like hinges and decorative items, as well as for fasteners. During demolition jobs, these items should be set aside for recycling.
Musical Instruments – A wide variety of musical instruments are made of brass. Although not a common item brought to us for recycling, we do see them from time to time, usually irreparably damaged.
Ammunition Casings – Brass is the most common metal used for cartridges for firearms. Firing ranges often accumulate quantities of these casings, which can be recycled at our scrap yard.
Other Items – Decorative items, household goods, and many other items are commonly made of brass. These often make up part of brass metal items brought to us for recycling. A magnet can distinguish between solid brass and brass-plated steel items.
We Pay Bronze Scrap at Top Price at Our Minnesota Metal Recycling Center
Bronze is similar to brass, since it is also an alloy of copper. Primarily used for castings, bronze typically combines copper, zinc and tin. However, many specialized bronze alloys are created for specific uses and bronze scrap requires careful sorting before resale by our metal recycling company. Older bronze items may actually be brass, but analysis with our handheld X-ray Fluorescence (XRF) equipment will show the actual composition. Bronze items are less commonly brought to us, but make up part of our recycling operations. Those items include:
Bells – Many bells are cast of bronze and are sometimes brought to us if they are no longer needed or are broken.
Marine Fittings – Bronze castings are commonly used in a wide variety of marine, boat and ship fittings, due to their resistance to corrosion. Ship propellers have also been commonly cast in bronze.
Decorative Castings – A wide variety of decorative items are cast in bronze. While bronze sculptures are not commonly seen in scrap yards, other bronze castings such as candlesticks, plaques, and other items are brought to us.
Industrial Castings & Bearings – Although less used today in industrial settings, bronze has been used industrially for castings and plain bearings.
Tools – Due to it's non-sparking characteristics, bronze alloys have been used for a wide range of tools including hammers, wrenches and other tools used where sparks would be hazardous.
Minnesota Buyer of Copper, Brass & Bronze Scrap in All Forms
Copper, Brass and Bronze scrap may contain a wide range of different alloys. Each alloy has its own market price. As the leading buyer of recyclable scrap metal, we have the expertise and analysis technology to accurately identify the exact composition of your materials. That means that we can pay you the best price, unlike some buyers who pay a general, lower price for these materials. Our prices are based on the latest market value and we ensure sellers to get the most value.
All copper and its alloys are in demand in the metal recycling industry and our scrap metal company in Minneapolis actively buys these metals for processing at our facility. We will assist sellers in identifying the materials brought to us and pay highly competitive prices for copper, brass and bronze scrap metal. As part of our commitment to complete customer service, we'll also be glad to help our customers learn ways that they can pre-process and sort copper scrap to make it even more profitable for them. Contact us with any questions you may have about your scrap metals.