Choosing the Right Scrap Metal Recycler in Minneapolis St. Paul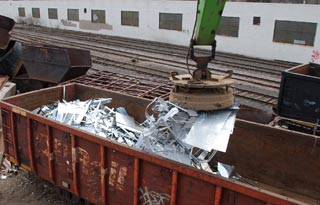 As in most large urban areas, the Twin Cities metro area in Minnesota has several scrap metal businesses in operation. When you have scrap metal to sell or want to set up a recycling program for your company, choosing the right Minneapolis scrap metal dealer is important. As a Minnesota leader in metal recycling, Leder Brothers Metal Company has been in continuous business in Minneapolis for over a century. Since 1913, it has operated on the same basic principles of fair pricing, customer satisfaction, and the latest technology to buy, process, and sell scrap metal of all types in the Twin Cities area. If you're looking for a metal recycler in the Minneapolis St. Paul area, ask the following questions and you'll get a good idea of who is your best choice:
How Long Have You Been in Business? – Length of time in business is a good indicator of what you can expect from your relationship with any company. Companies that provide great customer service and competitive pricing tend to stay in business the longest. Leder Brothers has operated as a family-owned business in the Minneapolis area since 1913.
Is Your Business Locally Owned? – Some scrap metal companies are owned by corporations that do business in many areas. In many cases, the practices and policies of those businesses are set at a corporate headquarters rather than locally. As the metal recycler with the longest history, our business has been family-owned for 100 years in the Twin Cities metro area. All decisions and policies are set right here to meet the needs of Minnesota. The owners of our company are on-site and work with customers on a daily basis.
What Is Your Facility Like? – Some scrap metal dealers operate what is commonly known as a junkyard, dealing in automobiles and other materials. They also buy scrap metals. In contrast, our recycler is a metal recycling business. Our facility is clean, efficient, and always safe for you and your vehicles. You'll never have to worry about punctured tires or maneuver around piles of junk waiting to be processed.
How Do You Identify & Grade Materials? – Scrap metal comes in many forms and represents a wide range of materials. Purchased by weight, the price depends on what metals make up the scrap. Most metals are alloys of different metals, so properly identifying materials is important. Identifying and grading scrap metal properly means getting the maximum price for your materials. At our Minnesota metal recycling center, we use the latest handheld X-ray Fluorescence (XRF) analysis equipment that can determine the exact metal content of your materials immediately. We pay fair prices for your actual materials based on the current market pricing. Some scrap recylers just weigh your load and offer a price that is not based on an actual analysis. You're never sure you're getting full value in such cases.
How Do You Weigh Materials – Some scrap metal is priced by the ton, while other scrap is priced by the pound. For industrial precious metals, pricing is set by the ounce. Accurate weight measurements require a variety of scales to suit different materials. From our certified electronic drive-on truck scale to a variety of digital electronic scales throughout our facility, we weigh your scrap accurately to assure you of full value for your materials. We use appropriate accurate scales for each load we purchase. You're always assured of accurate payment.
How Much Do You Pay for Scrap Metal – At our scrap metal yard, proper identification of the many different metals we buy is important to us and to our sellers. We don't expect our sellers to know the exact composition of the various metals and alloys they bring us. Using our long experience and state-of-the art metal analysis equipment, we can accurately determine the type of any metal. That allows us to pay for exactly what you have. At some scrap dealers, scrap buyers may offer you a lower price because they don't know exactly what is in your load. Bring your scrap metal to Leder Brothers for the best fair market prices.
Trusted, Established Scrap Metal Recycler – Minneapolis St. Paul, MN
With a century-long history of buying and processing scrap metal in the Twin Cities, our company is proud of our enduring reputation as the scrap metal recycler of choice in the Minneapolis St. Paul metro area. That reputation has been built through fair pricing, excellent customer service, and the use of the best technology to provide efficient, accurate, and friendly service to every customer we serve. Bring your scrap metal to us and you can count on high quality service and fair payment. Contact us today with your questions about metal recycling or bring a load to our convenient Minneapolis location.