Scrap Materials Not Accepted by Leder Brothers Metal Company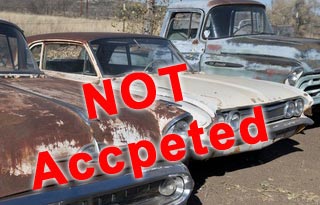 Although our Minneapolis St. Paul metro area metal recycling company accepts a wide range of scrap metal items and pays top prices for it, there are materials that we cannot accept for recycling. A number of materials and items require special licensing for processing, which we do not hold. In other cases, materials may be hazardous or contain materials we cannot process. Our licenses in the city of Minneapolis limit us in our operations for very good reasons and we want our customers to know about materials we cannot accept. We've listed many items we cannot accept below. If you need to recycle any of these items, we welcome you to call us. We'll be glad to suggest ways to recycle materials we are unable to accept at our facility, including:
Automobiles – We are unable to accept complete vehicles. For these, we recommend contacting automotive recycling dealers, which will be happy to receive them.
Complete Appliances – Washing machines, refrigerators, stoves, dishwashers and other appliances are not accepted by our scrap metal yard. Individual scrap haulers may break these down and bring the scrap metal to us.
Automobile & Other Lead-Acid Batteries – We do not have facilities for processing these batteries. They can be recycled at various auto parts outlets and at other locations.
Tires – Our company cannot process tires. We do purchase automotive and truck wheels without tires. We accept both steel and alloy wheels without tires.
Electronic Products – Electronics such as televisions, radios, microwave ovens, stereo equipment, capacitors, and other products contain materials we are unable to process. You can find resources for recycling electronics at Minnesota Electronics Computer Recycling.
Computers – Recycling computers and related items is a specialized type of recycling. For a list of recycling centers for computer equipment, go to the above Minnesota Computer Recycling web site.
Jewelry or Coins – Recycling these items requires special licensing by the City of Minneapolis. We do not maintain that licensing. For recycling these items, a number of businesses specialize in buying gold and silver jewelry and coins.
Articles Containing Oil or Freon – Our company is not licensed to process items containing oil or freon, such as air conditioners, oil tanks and other items. Contact us for information on alternative ways to recycle such items.
Articles Containing Asbestos – Processing an item containing asbestos, a hazardous material, requires specialized equipment and processes. Leder Brothers does not accept any amount of asbestos.
Articles Containing Mercury – Although mercury is a metal, it requires special handling and licenses. We will be glad to advise you on disposal of such items, but do not accept them at our Minneapolis location.
Fuel Tanks – Our metal recycling company cannot accept intact fuel tanks containing any fuel, residues or fumes, due to the danger of processing them. Call us for more information on these items.
Tanks for Pressurized Gasses – Due to regulations, we are not able to accept tanks used for pressurized gasses. We will be glad to suggest resources for you for these items.
Radioactive Metals – Federal regulations and safety considerations prevent us from accepting any radioactive materials. Contact us for a referral to the proper agency for such materials.
Other Hazardous Materials – We do not hold licenses for processing any materials classified as hazardous waste. Various agencies regulate the proper disposal of such items.
Illegally Obtained Materials – Our Twin Cities scrap metal company follows all laws regarding acceptance of materials at our facility. We do not accept any materials obtained illegally.
Most Reputable Scrap Metal Buyer – Twin Cities, MN
At Leder Brothers Metal Company, we have been buying, processing and selling scrap metal for 100 years in the Minneapolis St. Paul metro area. That is our business and it is our only business. While some local dealers accept a wider variety of items, our specialty is scrap metal. If you have other materials you need to recycle, or any of the materials listed above, we'll be happy to recommend other resources for you. If you have scrap metal to sell, we'll pay you top prices for that scrap metal and welcome your business. Please contact us if you have any questions about scrap metal recycling.