Minnesota Scrap Metal Buyers – Minneapolis St. Paul
For over 100 years, our scrap metal recycling company has met the needs of retail, industrial, and wholesale clients in the Twin Cities area. A family-owned company for three generations, our long history of success is based on high-quality service for every customer through state-of-the-art technology and equipment, modern, clean and secure facilities.
Our dedication to providing excellent customer service for every client, large or small. As a buyer of the full range of scrap metal from all sources, we pay top prices, based on accurate, on-the-spot analysis of materials and the current market value. As a seller, we supply the international wholesale metal market with top-quality, accurately sorted and identified scrap metals, ready for economical recycling and re-use. Thank you for visiting our website. We hope you'll explore its pages to learn more about our professional operation and how we have become the leading scrap metal recycling company for the entire Twin Cities Metro area of Minnesota.
Minnesota's Leading Scrap Metal Recycler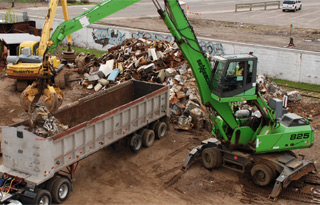 At Leder Brothers Metal Company in Minneapolis, we are always ready to handle your scrap metal needs professionally and with the experience, technology and dedication that assures you of receiving the maximum value for your metal scrap. Whether you're an individual scrap hauler, a small business that generates any quantity of metal scrap or an industrial firm looking to recover value from manufacturing scrap, excess inventory or surplus metal stock, you can count on us as your trusted metal recycling company. Contact us today to discuss your needs or visit our Minneapolis facility. We look forward to meeting you and showing you why we're the leading scrap metal company in the Twin Cities.