Modern, Clean, Safe & Secure Scrap Metal Yard – Minneapolis St. Paul, MN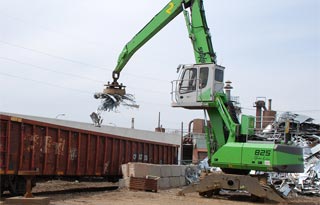 Our Minnesota metal recycling company is conveniently located at 3240 Snelling Avenue South, Minneapolis MN 55406. It is just south of Lake Street, between Hiawatha Avenue and Minnehaha Avenue. We have been operating at the same location since 1970 and have been in business in Minneapolis since 1913. Our central easily accessible metal scrap yard is located on a rail siding and is in an industrial area. It is designed for easy access by customers and incorporates both an outside handling and storage area and an indoor plant for grading, sorting and preparing scrap metal for sale to our wholesale buyers. Our scrap metal yard is not a junkyard like some dealers' facilities. It is a clean, well-organized processing facility. When you visit our company, you'll find:
Our Receiving Entrance & Scales

Our receiving entrance off Snelling Ave can accommodate vehicles of any size and is swept clean daily for safety, cleanliness, and to prevent any issues with vehicles. You'll never have to worry about a flat tire. A drive-on precision electronic scale is located immediately in front of our offices. When customers arrive, they are met by one of our courteous, knowledgeable staff members who will assist them with their needs. Safety is a primary concern at our scrap yard. Metal handling equipment and steel and cast iron storage are at the back of our property, away from our receiving area. Convenient visitor parking is also available.

Scrap Metal Analysis & Weight Measurements

Depending on your needs and the nature of your load, we will weigh and identify your materials. Using a handheld X-ray Fluourescence (XRF) spectrographic analyzer, we can determine the exact composition of any metals. Unlike some dealers who may just grade your materials by eye and quote you a price based on guesswork, we determine the exact nature of your scrap so we can provide an accurate price quote based on the latest market value. We know that most sellers don't know exactly what they're bringing us. We provide an analysis to make sure they get full price. We separate different metal types and weigh each accurately to assure that our customers are paid fairly.

Clear, Accurate Price Quote for Top Value

Very few metals are used industrially in their pure form. Almost all metals in finished products are alloys which are mixtures of different metals to meet specific characteristics. For example, pure gold is not used for any finished products. Gold is mixed with other metals to make it more durable, alter its color, or to make it more affordable. The same is true for most other metals. When you bring us scrap metal, we use a state-of-the-art handheld X-ray Fluorescence (XRF) analyzer to show us the precise composition of your scrap. We base our price quote to you on the actual alloy composition and use that composition to sort metals for resale.

Security & Safety Are High Priorities at Leder Brothers

Our Minneapolis scrap metal yard takes safety and security seriously. Our entire location is monitored by closed-circuit video cameras and our dedication to maintaining a clean and orderly customer area means that your safety is always of concern to us. Since materials handling equipment and other processing equipment operate at the facility, all operators are careful to avoid dangerous operation. We also ask that our sellers observe all safety signs and instructions from our staff for their own safety.
Minnesota Most Trustworthy Metal Scrap Yard – Twin Cities
Efficiency, safety and well-organized operations are important to everyone at our modern metal scrap yard. That includes our sellers who bring in various materials for recycling so we take care to provide a safe, clean and secure receiving area for their convenience. In addition, our state-of-the-art scales and metal analysis technology are designed to make sure that each seller receives the top price for the scrap metal they sell us. When you visit our scrap yard, you'll immediately notice the difference from some other dealers' locations. We want to make your visit to our facility a pleasant process and devote ourselves to provide that experience for every customer. Contact us today to discuss your scrap metal questions. Sell your scrap metal to us and we'll show you the Leder Brothers difference.