Leading Buyer of Aluminum Scrap – Minneapolis St. Paul, MN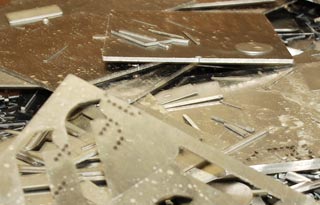 Lightweight, strong, and corrosion resistant, aluminum is widely used in the manufacture of a huge range of products and as a structural material with many applications. As a metal that is widely recycled throughout the world, recycled aluminum uses only 5% of the energy required to process aluminum from its ores. Scrap aluminum prices fluctuate across a broad range, but recycling aluminum is always good business. As a leader scrap metal buyer in Minnesota, aluminum recycling is a large part of our operations and we sell our processed scrap to wholesale buyers both in the United States and internationally. The uses of aluminum are almost uncountable and it can be found in a very wide range of applications. At our metal scrap yard in Minneapolis, we actively buy aluminum scrap and pay the highest price for it, based on current market conditions. Among the items brought to us for recycling are:
Packaging, Cans & Containers – These come to us in large and small quantities. We crush them and bale them for sale to our wholesale buyers.
Sheeting & Tubing – From foils and sheeting to tubing used in everything from lawn furniture to a wide range of other products, these forms make up a portion of aluminum scrap we process. HVAC equipment also contains condensers and coils made of aluminum, as do automobiles.
Siding & Windows – Remodelers, siding applicators, and contractors bring these materials to our recycling service company to receive maximum value.
Castings – Cast aluminum is used in a wide range of products including seat supports, gear casings, and more. Oil-free castings are welcome at our metal recycling center if internal non-aluminum parts are removed.
Pipe & Poles – Aluminum is widely used for street lighting poles, flagpoles, boat masts, and other similar structures.
Vehicle Wheels – Alloy wheels of aluminum and magnesium alloys are common and can be recycled in any condition as long as tires are removed.
Aircraft & Boat Components – Due to its light weight, aluminum is widely used in the aircraft industry. We buy aluminum aircraft and boat components for the highest prices available in Minnesota.
Wire & Cable – Aluminum is used in high-voltage transmission lines and in some other electrical wiring applications.
Automotive Components – Aluminum is widely used in automotive and truck applications for everything from engine components to bumpers and other parts.
Other Items – From cases, cabinets and enclosures to sporting goods and many other products, this light-weight metal is one of the most widely used metals. We buy these items and pay top prices for them.
Competitive Prices Paid for Aluminum Scrap in the Twin Cities Metro Area
The particular alloy of aluminum scrap makes a difference in the market price of that scrap. When you bring us a load of aluminum scrap, we use our experience and modern metal analysis equipment to determine the alloy type you have. Then, unlike some scrap metal dealers, we pay you a top price for your load, instead of the lower price for general aluminum scrap.
From individual scrap haulers, contractors and remodelers to industrial manufacturers, aluminum scrap is in high demand at all times for recycling. As the top-rated scrap metal buyer in Minnesota, we consistently pay high competitive prices for scrap aluminum at our Minneapolis recycling center and through our industrial recycling programs. We encourage all of our sellers to take advantage of our clean, safe receiving area to bring us their scrap to get top prices, along with our legendary customer service. If you have aluminum scrap for sale, make us your choice as the place to sell it.