Scrap Metal Recycling for Demolition Contractors – Minneapolis St. Paul, MN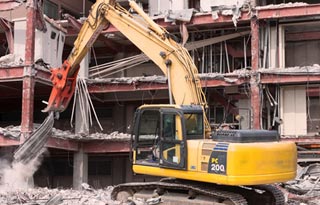 Demolition processes for buildings of all types and sizes creates metal scrap in varying quantities and types. Whether your demolition company is headquartered in the Minneapolis St. Paul area or travels to the area for major projects, our scrap metal recycling company can assist you in handling the metal waste generated in the demolition process. We work with demolition companies for projects as small as a home remodeling job to demolition of large buildings and structures. Our flexibility allows us to work with your needs and on your schedule. We welcome all inquiries from demolition and salvage contractors for their metal recycling needs. We have assisted in handling metal waste from many demolition and salvage jobs, including:
Residential Demolition – Copper pipe and wiring, metal ductwork, aluminum siding, steel and aluminum fencing, metal roofing materials and more are just some of the scrap metal from residential demolition we handle. Contractors can deliver these materials to us for immediate competitive payment.
Commercial Metal Building Demolition – Our metal recycling company will buy scrap from demolishing typical metal building types. Contact us to discuss your project and let us help you plan for your recycling needs.
Scrap Metal Accumulations at Demolition Sites – Many businesses and agricultural operations accumulate large metal scrap piles over time. Recover the scrap value from these accumulations at our scrap yard at the best prices.
Industrial Equipment Scrap – From machine tools and other industrial equipment to assembly line equipment, if your demolition company is doing internal demolition for re-purposing a facility, contact our scrap metal buyer.
Reconstruction & Renovation Scrap – Whenever a building is renovated, remodeled, or re-purposed, demolition is part of the process. Leder Brothers buys architectural castings, cast iron radiators, brass hardware, copper piping and roofing, and all other metal scrap generated from these projects.
Selective Metal Recycling – For very large demolition projects, we are always ready to purchase selected metal scrap if bulk metal scrap is handled in another way. Contact us on these projects to discuss recycling specific materials and recover a higher price for copper, brass, bronze, aluminum and other scrap generated from your demolition. We will be happy to create a plan with you.
Customized Metal Recycling Solutions for Demolition Companies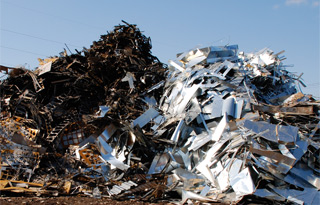 Every large or small demolition job is unique. But all result in metal scrap including roofs, fences, siding, ducts, pipe, wire and more. As the Twin Cities metro area's leading scrap metal company, we work closely with demolition contractors to develop recovery strategies that result in top-dollar payment for metals recovered during demolition projects. We work with local demolition companies in the Minneapolis St. Paul metro area and with out-of-area companies who contract for projects in Minnesota areas. In each case, we are happy to assist in recovering the value of metals of all types. Our creative consulting and competitive pricing for scrap metal can help you recover value for any project, even if we handle just specialized metal recycling for you.
Top Minnesota Scrap Metal Buyer
Our Minneapolis-based scrap metal company provides a wide range of services to demolition contractors for projects of all sizes. By contacting Leder Brothers to discuss your upcoming project in Minneapolis St. Paul area, you'll get the benefit of our 100 years of service, our metal analysis capabilities, our scrap metal expertise and our dedication to providing top-quality service and competitive payment for all scrap metals. We encourage you to contact us prior to beginning demolition or during the process to discuss your metal recycling needs.