Leading Minnesota Scrap Metal Buyer – Minneapolis St. Paul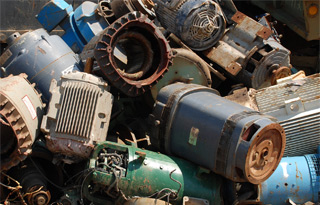 Recycling metals has a long history in the United States. During World War II, a strong scrap metal recycling effort played a major role, as many people still remember. Today, scrap collection and recycling is a major industrial source for a wide variety of raw materials. The value of most metal scrap is high because recycling is far less expensive than the cost of mining ore and converting that ore to useful materials for manufacturing. In the 21st Century metal recycling is an international business, with scrap metal flowing across the world for reprocessing into the products we purchase.
Leder Brothers Metal Company was created in 1913 by Abe Leder, the grandfather of Mark Leder, one of the current co-owners, along with Isaac Einisman, another family member. Today, our company plays a major role in the metal recycling industry in the Minneapolis St. Paul metro area. We buy scrap metals of all kinds from a wide range of customers ranging from individual scrap haulers to industrial firms throughout Minnesota and surrounding states. At our facility, we carefully analyze all scrap, then grade it, sort it, and make it ready for sale to our wholesale buyers, both in the United States and internationally. We pay highly competitive prices for all scrap we purchase and work to establish long-term relationships with every seller.
We Buy a Wide Range of Metals – Iron, Steel, Copper, Brass, Bronze & Aluminum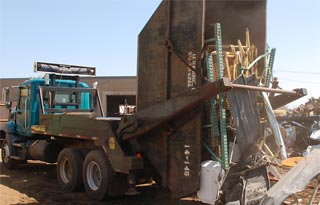 As a full-service scrap metal buyer, we purchase almost all metals in a wide range of forms and in all quantities. From smaller quantities supplied to us by individual scrap metal haulers to multi-ton quantities from larger sellers, our facility is capable of handling the needs of the full range of sellers.
Iron & Steel Scrap – From cast iron and sheet steel to structural steel and industrial iron and steel scrap, our outdoor storage area and materials handling equipment is ready to prepare your iron and steel scrap for rail transport from our rail siding.
Stainless Steel Scrap – Our Minneapolis metal scrap yard buys all stainless steel alloys in all forms. We analyze each load and pay competitive market rates based on alloy type and condition. Stainless steel scrap makes up a major part of our business.
Copper, Bronze & Brass Scrap – Today's prices for copper, brass, and bronze scrap in all forms are based on the actual composition of the metals we buy. At the leading Twin Cities scrap metal buyer, we accurately identify the composition of your scrap and pay market rates based on that analysis.
Aluminum Scrap – From aluminum beverage cans, tubing, and aluminum building siding to extrusions, castings and more, we pay market rates for all aluminum scrap.
Industrial Gold, Silver & Platinum Scrap – Gold, silver, platinum, rhodium and other precious metal alloys are used in many industries. While our scrap yard does not buy jewelry or coins, we actively buy industrial precious metal scrap.
Titanium, Tungsten & Nickel Scrap – A wide range of specialty alloys are used in various industries and these alloys are a special interest for our metal recycling business. From nickel contained alloys, tungsten carbide, titanium and magnesium alloys to both low and high temperature alloys, we pay competitive market prices based on immediate analysis of your scrap.
Construction Scrap Metals Clean-up – Throughout the Twin Cities metro area, residential and commercial construction generates scrap during the building process. We actively purchase construction site scrap metal.
Other Scrap Metal – As the most reputable metal buyer and recycler in Minnesota, we buy almost all metals, from aluminum to zinc. If you have metals of any type, we'll pay you competitive prices for it. If you can't identify the type of metal you have, bring it to us for analysis and pricing.
Waste Materials Not Accepted – Due to licensing and safety reasons, we do not purchase vehicles, complete appliances, batteries, tires, electronic products, computers, intact fuel tanks, pressure vessels, articles containing oil, Freon, asbestos or mercury, jewelry, or hazardous materials. Contact us for recommendations for proper handling of these items.
Recycling Metals Keeps Minnesota Environment Clean
At our metal recycling company in Minnesota, we're proud of our contribution to preserving our environment. Rather than being dumped in a landfill, every pound of scrap metal that is recycled contributes to saving energy, helps to clean up our communities, and benefits the environment in many other ways. Bring your metal scrap to our clean modern scrap yard and we'll pay you a competitive price while providing an environmentally sound process for reusing these valuable resources.
A Family Tradition in the Scrap Metal Buying & Recycling – Twin Cities, MN
For over a century, our family-owned scrap metal yard has served the needs of the entire Minneapolis St. Paul metro area. Our long history of business success is based on serving our customers with accurate, fair, competitive pricing, dedication to customer service and integrity. From our friendly staff to our state-of-the art technology, our service puts customers first. We invite you to contact us for all of your scrap metal and metal recycling requirements. We will work diligently to create a long-term relationship with you. Our customers are our most important business assets.