Scrap Cast Iron & Steel Buyer – Minneapolis St. Paul, MN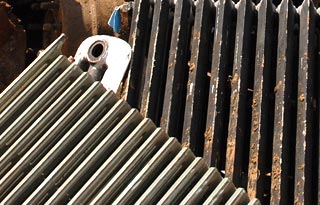 Iron and steel are the most widely used metals in the world. Strength, economical cost and durability make these ferrous metals ideal for a wide range of uses. Steel is the most recycled material in the world with over 80 million tons recycled in the United States alone annually. It is far more economical to recycle steel than to produce it from ores, so iron and steel recycling is an important part of the scrap metal industry. As a Twin Cities leading metal recycling company, we buy, process and sell scrap steel as a major part of our business. We actively purchase scrap steel and cast iron from all sellers and sort and process these materials in large quantities to sell to our wholesale scrap-buying customers. Sorting of ferrous metals is an important part of the recycling process, since these materials fall into more than one category:
We Buy Cast Iron Scrap in the Twin Cities Metro Area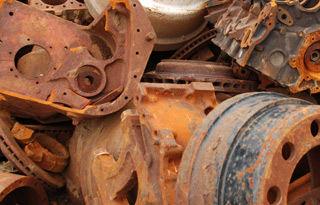 All cast iron is not alike, but the bulk of cast iron items are of the variety called Grey cast iron. Other cast iron types are less common and are made up of different combinations of metals to form alloys for special purposes. At our ferrous metal recycling company in Minneapolis, we use X-ray Fluorescence (XRF) analyzers to determine the type of material in our sorting process. Cast iron items commonly brought to us by our retail customers include:
Engine blocks with all internal components removed
Heating radiators
Flywheels
Housings of various types
Machine-tool bases
Architectural castings
Large Gears and other machine components
Cast iron cookware
Active Buyers of Scrap Steel in Minneapolis St. Paul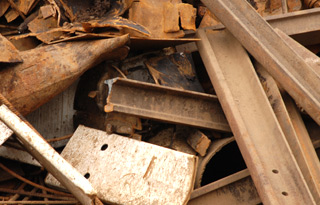 At our Minnesota scrap metal yard, we actively purchase steel scrap of all types from our sellers. Steel comes in many types and forms and the type and condition of steel brought to us is part of the calculation of how much we pay for scrap steel. Our high-tech metal analysis equipment lets us accurately determine the type of steel brought to us and our highly skilled staff can quickly identify items that may be of a higher value than others. Basic steel types include:
Carbon Steel – Making up as much as 90% of steel, by weight, carbon steel is used in a wide range of applications.
Low Alloy Steels – With the addition of other metals to form alloys, a wide range of characteristics can be created, such as hardenability, machinability and other desired properties.
Tool Steel – Specially formulated for hardening ability, tool steels have properties that make them suitable for cutting uses. Drills, chisels, cutters and other tools are made of tool steel.
Specialty Steel Alloys – A wide range of steel alloys includes alloys with special properties that suit them for specific uses. Special weathering qualities, high strength and other properties are created by specific alloy formulations.
Stainless Steel – Containing chromium and nickel as part of the alloy, stainless steel alloys are highly resistant to corrosion. Stainless steel scrap is treated differently from other steels, and has its own page on this website.
We Buy All Steel Items & Pay the Best Prices
Among the steel items commonly brought to us by our sellers are:
Sheet Steel from many manufactured items
Structural Steel including I-beams, angle iron and other forms.
Steel Cable
Tool Steel
Axles
Chain
Anvils, rails, etc.
Reinforcing steel bars
Miscellaneous steel items
Leading Twin Cities Steel & Cast Iron Recycling Company
For all ferrous scrap metals, you can rely on our experienced buyers to properly identify your materials. We pay the best prices based on exactly what you bring to us. Unlike some local scrap metal dealers who may offer you a low generic price, Leder Brothers can identify exactly what metals you have and will pay top market price for your load. Get the most from every load at our Minneapolis scrap metal yard.
From individual scrap haulers and small businesses to manufacturers and industrial companies, our Minnesota metal recycling company purchases steel scrap of all types and in all forms. We will help you identify the items you bring in on the spot and pay you competitive prices for your ferrous metal scrap. Our goal is always to provide accurate, fair grading and we pay for what you bring us, based on current market pricing. We value all of our sellers and work with them to help them understand scrap metal pricing and how to maximize the value of the materials they bring to our Minneapolis scrap metal facility.