Scrap Metal Recycling Services for Small Businesses – Minneapolis St. Paul, MN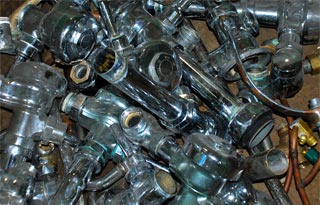 Small businesses in the Twin Cities are at the heart of our region's robust economy. In the course of doing business, many businesses like plumbers, electricians and car shops create and accumulate scrap metal of many types. All too often this material is treated as worthless and just put in the dumpster to be sent to the landfill. As the leading scrap metal buyer in Minnesota, we offer a profitable alternative to that wasteful practice. By accumulating and sorting scrap metal created by your small business and then bringing it to our Minneapolis metal recycling center, you can recover its scrap value. We pay top prices for copper pipe and wire, aluminum or steel siding, and more. Many small businesses are surprised at how much they receive when they bring a load to us for recycling. By setting up a simple metal collection system, sorted by metal type, you can turn that waste into money. Here are some of the business types that can benefit:
Automotive & Truck Service Businesses – Auto repair shops, body shops, tire shops, muffler shops and other automotive specialists generate a great deal of scrap metal. Our Minnesota recycling company will buy that scrap, letting you turn it into money. Sort the materials by metal type, accumulate it in containers and bring the scrap to us.
Electricians – Copper wire has value. The price of copper fluctuates, but it's always worth collecting and accumulating for sale to our scrap buyer. We buy both bare copper wire and insulated wire for processing and resale.
Plumbers – Copper pipe is a major part of residential and commercial plumbing installations. When removing copper pipe or installing copper pipe, all waste copper has value. The same is true of brass fixtures and other metals.
Contractors & Builders – All metals used in building construction have scrap value. Recover all or part of your site cleanup costs by collecting and sorting the metal scrap from the site and bring it to our recycling center.
Machine Shops – Sort and collect all cut-offs, waste, turnings and cuttings by metal type. Save expended tungsten carbide tools. We buy your waste and pay you the best price for it. Whatever metals you machine, they're in demand.
Metal Fabricators & Welders – Turn your waste materials into money with us, your Twin Cities scrap metal buyer. For maximum value, sort scrap by type and bring us your loads to get the best pricing.
Siding Applicators & Window Companies – Aluminum and steel siding from replacement jobs and aluminum extrusions from replaced windows should not go to the landfill. Bring these materials to our Minneapolis metal recycling center and recover its scrap value.
HVAC Companies – What are you doing with removed units? Put your crews to work during down times. Recover refrigerants safely and then break down the units. We buy condensers, coils, heat exchangers and sheet metal scrap.
Other Small Businesses – Whatever business you're in, if you generate scrap metals, our scrap yard welcomes you to bring your materials to us. We'll pay you top dollar for that scrap metal.
Top-Rated Scrap Metal Buyer for Twin Cities Businesses
Small businesses throughout the Minneapolis St. Paul metro area rely on Leder Brothers to handle all of their scrap metal recycling needs. We buy all types of copper pipe and wire, aluminum and steel siding and car parts for best prices. We offer fast, courteous service that gets you in and out of our facility quickly. Don't throw money into the dumpster and send it to the landfill. Create a simple scrap collection and storage system for your business and accumulate your scrap, sorted by metal type. Then bring it to our clean, secure facility. We invite all small business owners to participate in metal recycling with us. You'll recover your scrap's value and help preserve the environment.