Titanium, Tungsten, Nickel & Alloy Scrap Buyer – Minneapolis St. Paul, MN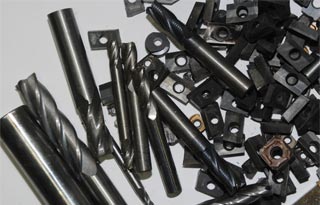 The metals most often recycled are iron, steel, aluminum, copper and alloys of those metals. At our Twin Cities scrap metal collection and recycling company, much of our business is related to those metals, but we also are active buyers of a wide range of other metals in the Minneapolis St. Paul area. Specialty alloys are used in a wide range of industries and products and often have high value as scrap for recycling. We buy specialty alloys from individual sellers, small businesses and industrial customers at our metal recycling facility. For many sellers, identifying alloys is not practical, but we can immediately identify any unusual metals and specialty alloys by using our handheld X-ray Fluorescence (XRF) analysis equipment to determine the metals contained in any scrap metal brought to us. We pay top prices for specialty alloy scrap based on its type and market conditions. Some of the alloys we frequently purchase at our convenient Minneapolis location include:
Tungsten Alloys – Tungsten is a hard, heavy metal with a high melting temperature. Its alloys have many industrial and other uses. Most commonly, tungsten is found in tool steels and tungsten carbide cutting inserts and other cutting tools. Other tungsten alloys are used in armaments, aerospace components and where its heavy weight is needed, including an increasing use as fishing sinkers. Our scrap metal buyers actively purchases all tungsten alloy scrap.
Titanium Alloys – Titanium and its alloys are light in weight but have high tensile strength. They can withstand high temperatures and resist corrosion. Alloys of titanium are widely used in the aerospace industry, in medical implants and in high-end sporting goods. Titanium scrap has a high value on the market and is in high demand by our metal recycling company.
Nickel Alloys – Nickel is a hard silver colored metal with excellent anti-corrosion properties. It is widely used for plating other metals to produce a lustrous finish that resists corrosion. It is also used in steel alloys. Once used widely in coins, it has been largely replaced with other metals. It is also a major component of many other specialty alloys including so-called super-alloys used in a wide range of industries. Nickel alloy scrap has a high value and can be sold at a high price.
High Temperature Alloys – A group of special alloys, often called super-alloys, have extremely high melting temperatures, and are used in many industrial applications. Often nickel-based, these alloys include trade names like Hastelloy, Inconel, Monel Metal, Nichrome and others. Difficult to identify on sight, they require analysis with high-tech equipment like our XRF analyzer. All of these high-temperature specialty alloys are actively purchased by our Minnesota scrap yard and have high value. Bring any unidentified metal materials to us for identification and to receive its true value.
Low-Temperature Fusible Alloys – Alloys of bismuth, lead, tin, cadmium, zinc, indium and others metals have low melting temperatures and are used as solders, for castings and for special uses in safety devices like fire sprinkler systems, boilers and other equipment. All of these alloys which may have brand and trade names have scrap value and are purchased by our top-rated metal recycling company.
Other Specialty Alloys – Almost all industrial metals are used in alloys for various purposes and products. From molybdenum and magnesium to zirconium and zinc alloys, all have excellent value as scrap. When accurately identified with our state-of–the-art metal analysis equipment, individual scrap haulers, small businesses and industrial sellers can recover the scrap value of any specialty alloys brought to us for recycling.
Full-Service Metal Recycling Company in the Twin Cities
For titanium, tungsten, nickel and specialty alloy scrap of all types, accurate determination of the metals contained in the alloy is crucial in determining the value of the scrap. Many scrap metal dealers have no way to determine this precisely and will offer you a general low price for scrap they cannot identify properly. At our modern scrap yard, we use our X-ray Fluorescence (XRF) analyzer to determine exactly what alloy you have and pay you a fair price based on current market value. Get the most for your specialty alloy scrap from us.
On a regular basis, customers come to our Minneapolis metal recycling company with materials they can't identify. Specialty alloys can turn up almost anywhere in metal scrap piles and other locations. Often, those customers are surprised to learn how valuable specialty alloy scrap can be. Bring any metal scrap you can't identify to us as part of a load of scrap or on its own and we will immediately analyze it for you and pay you top prices for your materials. We always look forward to receiving specialty alloy scrap and are often surprised at the variety of scrap metals brought to us.